LA Kings Draft: Owen Power 2021 NHL Draft Prospect Profile
If the LA Kings land a top-three pick, or THE top pick in the 2021 NHL Draft, Owen Power fits a major need in the organization's prospect pool.
It's not exactly a secret that the LA Kings prospect pool is top-heavy with offensive talent. Mark Yannetti and the team's scouting department have taken players like Quinton Byfield, Alex Turcotte, Rasmus Kupari, and Gabe Vilardi with the first selections in the last four years.
They've also been able to find good talent in the second round in the likes of Arthur Kaliyev, Akil Thomas, and Jaret Anderson-Dolan. As more of the aforementioned players make their way to the NHL roster, you can't help but notice the Kings lack a true number one defensive prospect.
Enter Owen Power.
The Kings are not making the postseason, which means they will have a chance to land the number one overall pick on June 2 when the draft lottery is determined. If they can get as lucky as they did last year when they landed the number two overall pick, they will have a legitimate shot at taking Power to give the organization a top blue-chip D man.
Owen Power, LHD
Vitals
Age: 18
Height: 6'5″
Weight: 214 lbs
Shot: L
Rankings
Ranked #1 by CONSOLIDATED RANKING
Ranked #1 by ELITEPROSPECTS.COM
Ranked #6 by FCHOCKEY
Ranked #1 by NEUTRAL ZONE
Ranked #2 by MCKEEN'S HOCKEY
Ranked #4 by RECRUIT SCOUTING
Ranked #9 by DOBBERPROSPECTS
Ranked #1 by DRAFT PROSPECTS HOCKEY
Ranked #6 by SMAHT SCOUTING
Ranked #1 by THE PUCK AUTHORITY
Ranked #1 by TSN/McKenzie
Scouting Report
February 2021 – Owen Power has been an interesting prospect to evaluate this season with the Michigan Wolverines. He possesses the size and strength combination that scouts and coaches dream of when looking at defensemen. He is also a very good straight-ahead skater who can work wonders with the puck on his stick in transition.

There are moments when he is able to put everything together and when he does, he sets Twitter ablaze. The highlights of Power's game are tantalizing. The other end of the spectrum is a bit concerning though because for every highlight, there are some growing pains. Power has struggled at times when the game becomes structured, with his team not having the talent advantage it did last year when he was with the Steel who absolutely dominated the USHL.

There are times when Power panics when dealing with pressure and he loses that dynamic element as he resorts to glass and out dump ins or over handling the puck without moving his feet. It is not all doom and gloom for the Michigan defender though. He has put up 12 points in just 16 games a freshman, finding ways to contribute even when he struggles in his own end at times. Dobber Prospects/Ferrari
Production
19-20: 12G, 28A, 18 PIM, +16 in 45 games (Chicago Steel of the USHL)
20-21: 3G, 13A, 6 PIM, +18 in 26 games (Michigan)
Video Highlights
Pro Comparison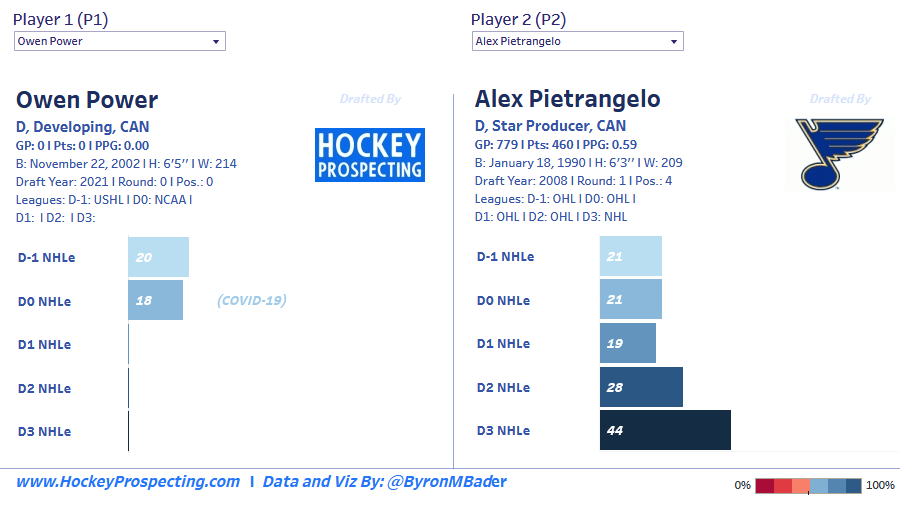 Final Thoughts
Power's game jumps off the film. While the numbers weren't there as a freshman with Michigan, the goals will come in his game. He jumps into the offensive rush to provide support for his forwards and hangs around the net as well. Power demonstrates good passing abilities and scans the entire ice from the point.
He'll walk the line to shift the defense before dishing the puck off to one of his teammates for a good scoring opportunity. I love his skating ability and puck handling, especially in close quarters. He'd be a great selection for the Kings, and as noted, would fill an organizational need along the blue line.