LA Kings: Lack of desperation, intensity requires major changes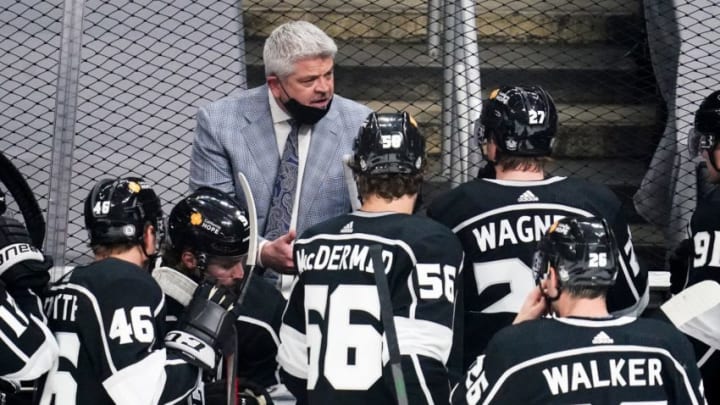 LA Kings (Mandatory Credit: Robert Hanashiro-USA TODAY Sports) /
The LA Kings lackluster performance against the Coyotes on Monday night surely ended any playoff hope, and it's time to play hungry players.
In what has felt like Groundhog's Day the last couple of weeks or so, the LA Kings aren't matching what they're preaching in the morning skate and postgame Zoom calls. The buzzwords have been "fast start" and "intensity," but neither were present in the Kings 5-2 loss to the Coyotes on Monday night.
Quick recap before diving in.
Arizona jumped out to a 3-0 lead 7:28 into the opening period. The LA Kings were apparently still in the locker room, registering just two shots on net halfway through the first.
"By the time we were done playing seven minutes, we were down by three and had taken two penalties," a visibly angry Todd McLellan said in the postgame Zoom call. "So I think that gives you a pretty good indication that the intensity level for the white team was a lot higher than the black team."
Drew Doughty kept some hope alive with his eighth goal, a powerplay goal, with less than four minutes remaining in the first. However, Coyotes' Michael Bunting tallied his first career hat trick at the 8:48 mark in the middle frame, making it a 4-1 game. The Kings responded with an Andreas Athanasiou goal early in the third, but it was already over at that point. Arizona got the empty netter to seal the victory.
It's time to shake up the LA Kings.
The Kings have lost six of their last seven games and seven of their last ten. The last two weeks have sealed this team's fate, as teams like Arizona and San Jose have surged ahead while Los Angeles and St. Louis have plummeted toward the West Division basement.
Gabe Vilardi has been somewhat of a disappointment this season, landing in Todd McLellan's doghouse a couple of weeks ago for not being in the right spot on Vegas' William Karlsson's goal. He was moved off his natural 2C position down to fourth-line winger.
It appears he's back in the doghouse after logging just 11:38 time-on-ice on Monday and sitting for the final eight minutes of Monday's game. When asked if Vilardi is in danger of being a healthy scratch, McLellan kept his answer succinct.
"Yep."
With how positive the 19-20 season ended, riding a seven-game winning streak into the premature shutdown, that's how bad the home stretch of the 2021 season is right now. The Kings have 19 games remaining and are just five points out of last place. Forget about leapfrogging three teams to make the fourth and final playoff spot.
That just isn't going to happen.
"Let's face it. We don't deserve to be in the playoffs if we don't have the intensity to play to get to the playoffs," McLellan concluded. "And it's as simple as that. And I think there's enough guys that have been there and know that the journey to the playoffs is just as hard as the journey through the playoffs. And we have a pipe dream of making the playoffs with the type of commitment and intensity we brought to the rink tonight and maybe a couple of other games over the last little bit."
With the playoffs out of the picture, the Kings must change up their lineup, which means bringing in some new blood from Ontario that will be hungry to prove themselves. Like I said, 19 games left in the season. We figured we would see Quinton Byfield, Arthur Kaliyev, Rasmus Kupari, among many others, for an extended look, and I say extended loosely, of course.
Byfield is the only one of those three mentioned who has yet to see an NHL game.
With as much as Vilardi is struggling right now, what's a better wake-up call than having Byfield play while the former is a healthy scratch? Of course, at this point in the season, the Kings might as well not start the clock on Byfield's or any other Ontario Reign players' entry-level contract – hence my extended look limitation – but it's time to see some changes.
Need I remind you that the Kings registered at least a point in nine of the 11 games that Matt Luff has played this season? Can he not provide more on the bottom-six forwards right now?
Switch it up because this just isn't working anymore. It's all talk with no accountability, and it's time for some players to receive a wake-up call to start playing better or get passed over by hungrier players.
Todd McLellan confirmed that Brendan Lemieux will make his LA Kings debut on Wednesday. Let's see if he brings an element of intensity that is sorely needed on this team, but he cannot do it all.