LA Kings: Three players who have overachieved/underachieved thus far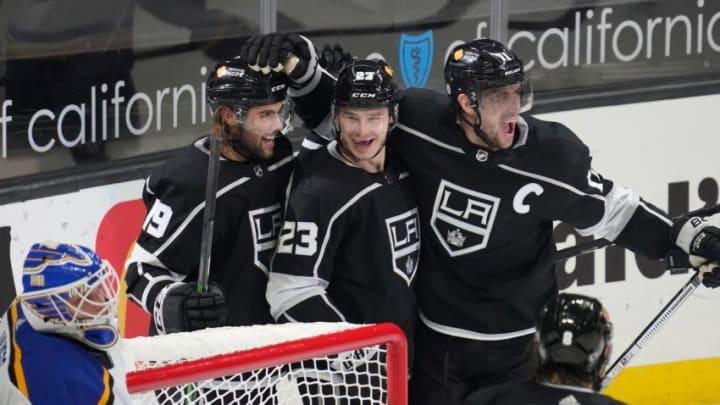 LA Kings (Mandatory Credit: Robert Hanashiro-USA TODAY Sports) /
At just over the midway point of the 2021 season, we look at three LA Kings players who have both overachieved and underachieved.
With 28 games gone by and 28 games remaining, the LA Kings find themselves in the thick of the West Division playoff race. This time last season, the organization was focused on finding trade partners for veterans with either expiring contracts or ones they could receive prospects and draft capital in return.
We knew heading into the abbreviated 2021 schedule that it would be a year of evaluation. The Kings have had several young players step in admirably. Of course, the veterans on the roster continue to rack up the points, which was not totally unexpected.
Let's review the three players who have overachieved and underachieved in terms of xGF% at the mid-way point this season.
Overachievers
1. Anze Kopitar (+13.62)
Does this really surprise anyone? Anze Kopitar continues to be one of the most underappreciated players in the NHL and would have a legitimate case for the Hart Trophy if the Kings' record were better. At 33 years of age, Kopitar's 1.21 points-per-game is a career-best for him, the highest since he finished with 1.12 PPG in the 17-18 season. His actual 63.3 GF% is significantly better than what his analytical projections suggest.
2. Dustin Brown (+12.37)
A bit of a surprise in the top three here. Dustin Brown is 36 years old and already has seven powerplay goals. At this rate, the former 13th overall pick in 2003 is on pace to exceed his career-high 13 PP goals in the 06-07 season. He's missed the last couple of games with an upper-body injury, but through 26 games, Brown has 13 goals and 19 points.
3. Carl Grundstrom (+11.13)
Carl Grundstrom has by no means put up big numbers with the LA Kings this year – just four goals and seven points through 26 games. It's a critical year for the 23-year-old to establish a spot for himself on the roster with the wave of talent coming. Perhaps Grundstrom has been the victim of some good luck, or playing on Jaret Anderson-Dolan's line has boosted his GF%, but analytics suggest he should be performing worse. At any rate, Grundstrom's net +11.13 GF% versus xGF% has him as the third-best overachiever at the mid-way point.
Capture /
Stats courtesy of NaturalStatTrick dated 3/19/21
Underachievers
1. Matt Luff (-21.12)

This really isn't fair to Matt Luff. The LA Kings have recorded at least a point in nine of the 11 games he's played in this season. He's one of the hardest workers on the ice, but playing on the team's fourth line has really hurt his numbers, as the 23-year-old has logged a 25 GF%. Analytics suggest he should be performing better, to the tune of a 46.12 xGF%. Take it for what it's worth, but Luff is rated as the worst in this category.
2. Blake Lizotte (-9.46)

Where to begin with Blake Lizotte? After recording six goals and 17 assists a year ago, the 23-year-old St. Cloud State product has fallen off a cliff this year. Michael Amadio was recently placed on waivers, and it feels like a matter of time before Lizotte follows. He was originally penciled in at the 2C to begin the year, but after both Gabe Vilardi and JAD have taken the next step in their development, Lizotte has been reduced to the 4C. Certainly, being out for two weeks with COVID didn't help his cause, but he has just two goals and four points in 22 games this season.
3. Austin Wagner (-8.97)

Another player that feels destined for waivers or traded for a late-round pick. Austin Wagner has speed, and that appears to be about it. He hasn't developed into what the Kings expected from him, logging just three goals and three assists in 21 games this season. With Andreas Athanasiou and other wingers playing well this season, Wagner has become a replacement-level player, sitting with the third-worst GF% vs. xGF% at the halfway point.