LA Kings: Jeff Carter days until 2020-2021 season begins
The LA Kings 2020-2021 season, if the dates remain as planned, is just 77 days away. We preview Jeff Carter and his potential impact.
A key member of the 2012 and 2014 Stanley Cup teams for the LA Kings, Jeff Carter, is in the twilight of his career and coming off a significant injury. The 35-year-old has two years left on his deal at a $5.3M cap hit each season and was shut down in late February due to an upper-body injury. He had surgery in early June to repair a core muscle, and, by all accounts, he's on track to be ready for the season opener.
The league has tentatively set a December 1 start date for the 2020-2021 NHL season, which will mark approximately a seven-month gap between the Kings playing meaningful hockey. But one of the major questions surrounding next year is what version of Jeff Carter will LA be getting? After playing in just 27 games during the 2017-2018 campaign, the former Flyers first-round pick scored 30 goals between the last two seasons.
And in those 27 games during the 2017-2018 campaign, he logged 22 points that equated to a 4.4 offensive-GAR (oGAR). He looked like he was headed for another big year. But the past two seasons have seen him register negative oGAR years and the worst defensive year in 2018-2019 from an analytical perspective (-4.1 dGAR) since Evolving Hockey began recording the metric.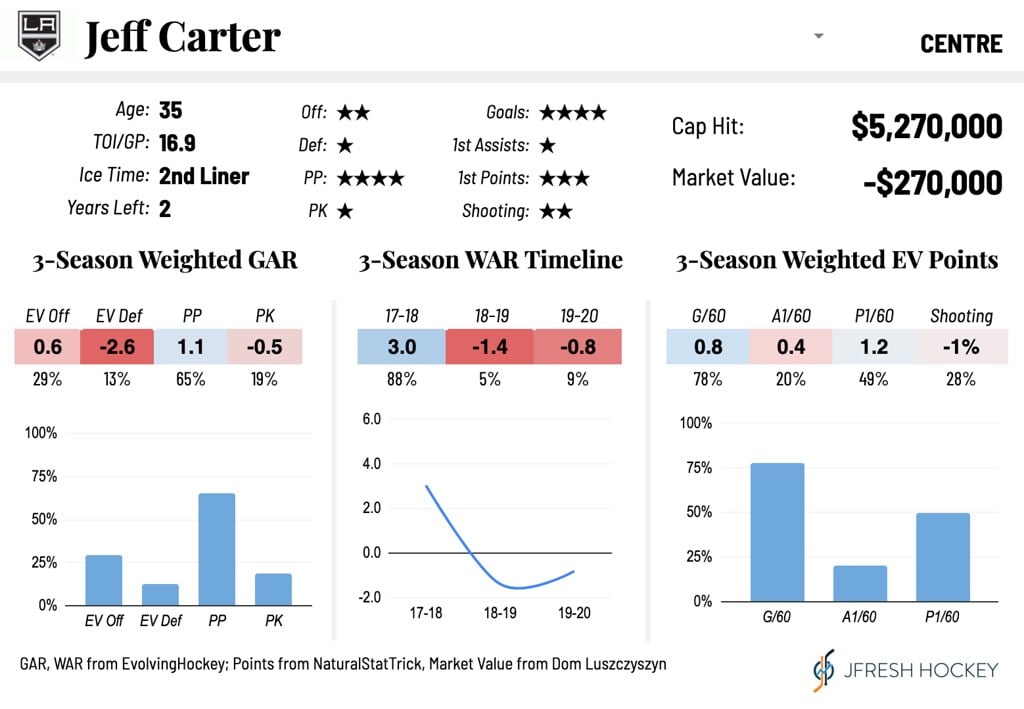 Consequently, his offensive point-shares have dropped significantly from the 6.7 accounted for in 2016-2017, down to 0.8 and 1.6 the last two years, respectively. With Carter on-ice, the Kings had a 37.1 goal share, broken down into 23 goals scored and 39 goals allowed this past season. Without Carter, that goal share was closer to 50 percent, meaning that him sitting on the bench was more valuable than him playing.
Carter is likely a good candidate to move to the wing this season, which could see a Claude Giroux or Jordan Staal-like uptick to his production, but with the top-six accounted for, Carter is destined to be a third-line winger at this stage of his career. That probably puts him on a line with Blake Lizotte as the 3C and Trevor Moore on the left wing.
The duo of Lizotte and Carter was limited to a small sample size of just 96 minutes playing together last year, but the Kings had a 42.9 percent goal share, broken down into three goals scored and four allowed with those two on ice. Again, a small sample size, but it's an improvement over Carter running the 2C.
Of course, there's always the chance that Seattle takes him in their expansion draft next year.